This will walk you through connecting to the FBRI wireless network (VTCRI-Wireless) on an Android device.  This was written for Android 8.1.0, however, the steps will be the same or similar on other Android devices.

TIP: If you have been connected before and you can't reconnect, delete (or 'forget') the network on your device and try the settings below again. 
Open your settings app from the main menu.
Select Network & Internet > Wifi
Select the "VTCRI-Wireless" network
When prompted enter the following details:
EAP Method: PEAP
Phase 2 authentication: MSCHAPV2
CA Certificate: Do not validate
Identity: Your FBRI ID @vtcri.local {ex. jdoe@vtcri.local}
Anonymous identity: Leave Blank
Password: Your FBRI Password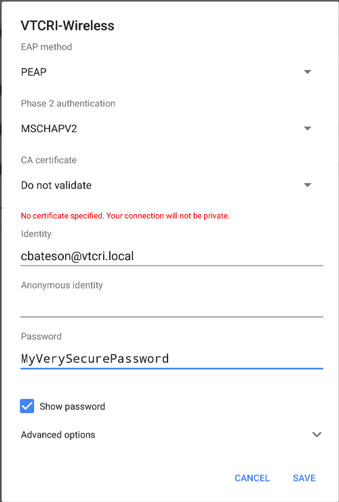 Select Save