| | |
| --- | --- |
| Capacity: | MAXIMUM CAPACITY: 4 |
| How to Schedule: | FBRI Admin | Room Request |
| Building:  | Children's National |
| Floor: | 6 |
| Room Number:  | 6221 |
| Special Instructions: | Located in the main hallway on the left before you reach the bullpen area. |
| Room Equipment: | Digital display,  Wireless Casting, Room PC, Conference Phone, Crestron Video Conferencing Camera, Zoom |
| Room Setups Available: | This room has a permanent table and only offers a standard conference / meeting table setup.   |
USING YOUR OWN LAPTOP:

You can use your own Windows or Mac laptop to present and video conference within the room.  There are three ways to do this: 
Connect your laptop directly to the room equipment (see below). 
Join a Zoom meeting being hosted by the room PC or another device connected to the equipment (see below). 
Wireless cast your screen to the room AV equipment (this does not include / enable video conferencing).
To connect your laptop, choose HDMI on the table panel (see above) then connect the corresponding cable from the cable caddy. In order for you to utilize the camera and microphone, you must connect the USB cable to your laptop; otherwise you can use the room PC for Zoom.

ROOM PC:
This conference space includes a room PC that offers several tools and applications to allow you to present, connect, and collaborate.  These tools include Zoom, the My Files application (which can be used to access your FBRI Network Home Directory and other shared network folders) and a  Web Mail shortcut to access the web-based email client, and the ability to insert a flash drive to transfer presentation files to the desktop.
To connect the Room PC to the room equipment, choose PC on the desk table panel (see above).
Video Conferencing:
Video conferencing is controlled from the Crestron Video Conferencing Camera connected below the room monitor

Video conferencing can be controlled from the Room PC or your Laptop.
You can log into your Zoom meeting by using the Zoom shortcuts on the desktop.

Help - Directs you to the Zoom articles that we have available at help.vtc.vt.edu
Host - Allows you to sign into your Zoom meeting to host an upcoming meeting.
Join - Allows you to join a meeting as a guest.
Share -  Will connect you into a meeting with the microphone or camera disabled. This tool is used to share a presentation without causing an audio feedback from other devices around you if they are connected to the same meeting.
Once in the meeting, you will need to select the Crestron camera.
Connecting to your network files from the Room PC: 


Within the My Files application, you will need to login with your FBRI credentials to access your FBRI network files. By default the connection will time out after 75 minutes. Any time during your session you can extend the connection time by 60 minute intervals.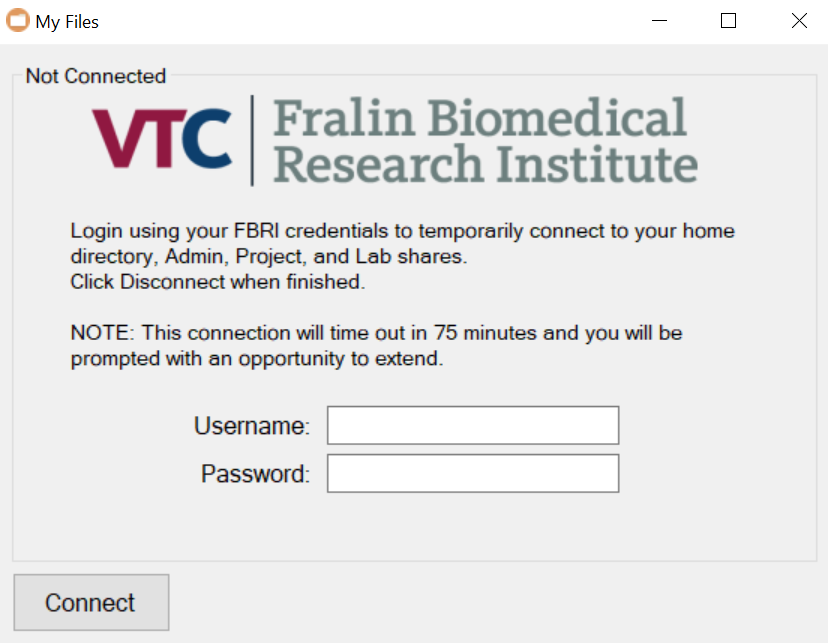 Additional Assistance:
You can request additional assistance by Starting a Conversation.
Click here to learn how to schedule this room for an upcoming meeting or event.
Click here to return to the FBRI | HS&T Conference Room List.